We invite manufacturers and distributors to take part in the 4th International contest in the sphere of household goods HouseHold Russia Award-2021.
The contest is held within the framework of the 27th International exhibition HouseHold Expo autumn 2021. HouseHold Russia Award-2021 will take place with the participation of the Russian Organization for Quality; the contest is organized by MOKKA Expo Group LLC.
Nominations of the contest:

NOMINATION TABLEWARE AND ACCESSORIES
NOMINATION HOUSEHOLD PRODUCTS
NOMINATION SUPPLIER'S CHOICE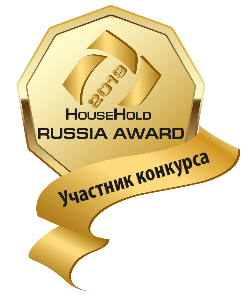 The purpose of the contest is to identify products that have the best technical characteristics and features, are functional, eco-friendly and of a modern technological design. The choice of the best product will be made by expert jury and professional visitors of HouseHold Expo, ChemiCos, Stylish Home. Gifts and Christmas Box. Podarki exhibitions.
JURY OF THE CONTEST:
Chairperson of the jury: Gennady Voronin – Editor-in-chief of magazine "Standarty i kachestvo", president of the Russian Organization for Quality, vice-president of the Academy of Electrotechnical Sciences, chairperson of the Board of Directors of the Concern "Nanoindustriya", doctor of sciences, professor
Members of the jury:
Anna Pakhomova – Candidate of culturological sciences, professor of the Industrial Design Department of the Moscow Stroganov Artistic-Industrial Academy
Konstantin Peregudov – Founder and editor of information portal about the tableware market Posudka.ru
Natalia Marova – Head of the Retail.ru project
Tatiana Kovshova – Editor-in-chief of magazine "Posuda"
Contact information:
Maria Nikovskaya This email address is being protected from spambots. You need JavaScript enabled to view it.